This Isn't Your Granny's Nursing Home
You've known this day would come. It's time to make a decision about living arrangements for someone you love, or maybe for yourself, and the whole process feels heavy. You're navigating family dynamics, daily responsibilities, and a decision muddled by layers of options and emotions and what-ifs.
Fear, dread, exhaustion, sadness, guilt – every day it's a new combination of emotions. And what's worse, if your only impression of senior living is your granny's nursing home from the 1970s or 80s – the depressing rooms and icky smells – then it's a daunting task indeed.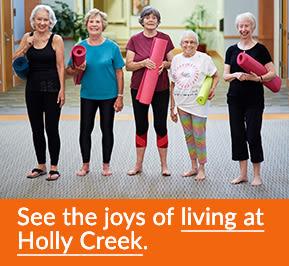 But what if you could replace all that dread with a whole new perspective? You can at Holly Creek. Our community is vibrant, welcoming, energetic, inspiring – not a bit like those dismal notions from the past. Our residents and their families are living proof that life can be lived to the fullest through its entirety and that assisted living and long-term care are more like opportunities instead of last-ditch options.
At Holly Creek, residents are encouraged to find fulfillment and live purpose-filled days. While that looks different for each individual, residents at Holly Creek are known personally and valued no matter where they are in their aging journey.
Listen to what a couple of our very first residents, Fred and Virginia, have to say about their experience at Holly Creek. "We moved to Holly Creek the first week it was open. After more than eleven years we still think it was one of the best decisions we have made. Our children also agree that it has benefited our whole family. We no longer have a house to sell and possessions to dispose of at a time that might be inconvenient to everyone. Instead, we have the advantages of a lovely apartment and many services and conveniences we need as we grow older. In addition to meals, housekeeping, maintenance and a caring staff, we also have the pleasure of friends close by and a variety of activities from which to choose. Our move here has given us and our family great peace of mind and the ability to enjoy the time of our lives in the best possible way."
At Holly Creek, our commitment to building that kind of authentic community is just one of the ways we are redefining senior care and debunking outdated perceptions. Our care starts from a position of honoring each individual as a unique contributor to our community. We delight in seeing our residents flourish – that is the essence of who we are at Holly Creek.
Holly Creek offers a broad spectrum of services, from residential living and assisted living, to rehabilitation, memory support, and skilled nursing. The staff understands the dynamic nature of long-term care and the changing needs of residents and are equipped to help each person navigate that journey with dignity and poise.
This refreshing new experience is a welcome option for many – for the person who needs more specialized care, for the couple with varying needs, and for family members needing peace of mind. So, if you are at the crossroads of what's next and what ifs, you can forget the misconceptions of the past. There's a better option. At Holly Creek, we're changing the way people live … for the whole journey for the whole family.
---